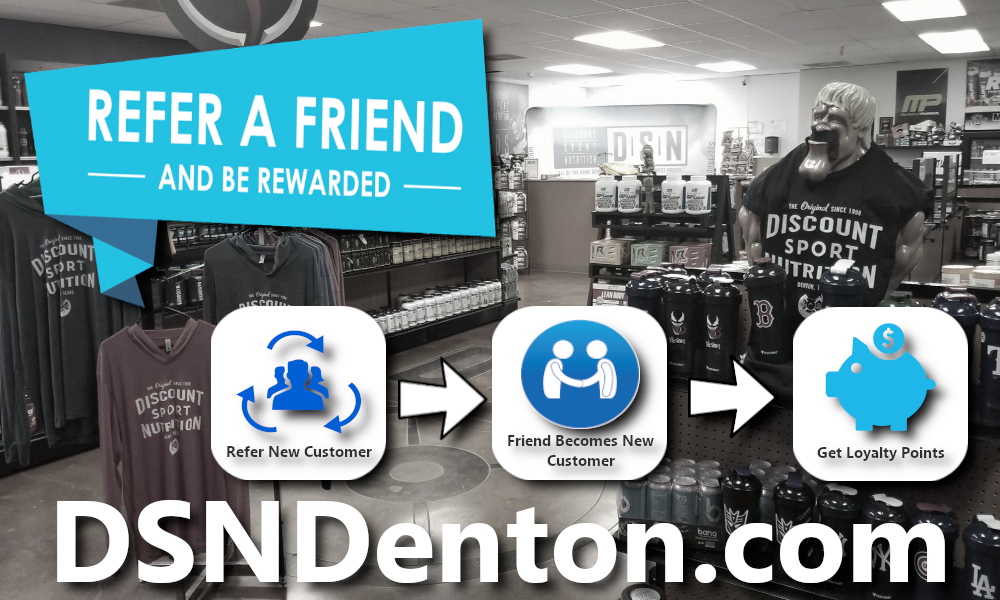 We know that times are tough right now not only for us as a retail store but for you, our customers.  A lot of you have recently lost your jobs or are uncertain about your future employment/income.  You may not want to spend money on supplements right now because of all this.  That means as a retail store, we need new customers than ever as a store.  Well, we have an idea that will help both of us out.  Introducing the…
DSN Denton Referral Program
If you know someone who buys supplements from one of the big Dot com websites, tell them to shop at our store or on our website.  When they tell us either in store or on their online order with us, that you referred them, we will not only opt them into our loyal program so they can start earning points…whatever amount they spend that day…we will give you the same amount of points!  So, you earn points WAY faster and get free products and/or money off!
Example – They spend $100.  They get 100 loyalty points and YOU get 100 loyal points!
We will even send you a notification by text or email, each and every time this happens, so you will know that you got points and what YOU are eligible for!
Here are the details…
New Customer is defined as someone who has not made a purchase at our store in a calendar year. (as recorded in our POS System)
Referral points is on the new customer's first purchase only.
There is no limit on the amount of new customers loyalty points you can receive.
In store - new customers must tell us your name or phone number at time of purchase.
On DSNDenton.com – new customer must put your name or phone number in comment section before finalizing purchase.
If new customer returns items purchased, for a refund, those loyalty points will be removed from your loyalty point total.
This program is not valid with any other program, promotion, sale, offer, discount, etc.
For those that are not familiar with our Loyalty Program or the rewards you get here is the breakdown:
Customers, who have opted in to our Loyalty Program, get one point for every dollar that they spend either in store or online.  Customers can redeem those points for various prizes or money off.  Here are the different prizes we offer...
100 Points = $5 off next purchase (no cash value)
150 Points = Free Shaker cup (shaker cup my vary)
300 Points = Free DSN T-shirt or Women's Razorback Tank Top
450 Points = $25 off next purchase (no case value)
600 Points = $50 off next purchase (no cash value)
*We reserve the right to change the prizes at anytime.  Prizes have no cash value and can not be returned or exchanged.  Loyalty prizes are not valid with any other offer, promotion, discount, etc.

 

Let's help each other out during this time!  You get free stuff and help out the local economy and we get new customers.  It's a win/win.  If you have any questions regarding this program, please contact us at the store or shoot us an email at – https://www.dsndenton.com/service/